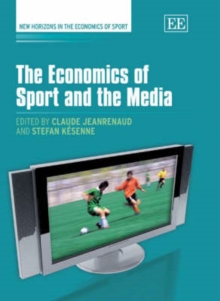 The economics of sport and the media
1845427432 / 9781845427436
Usually dispatched within 4 weeks
General (US: Trade) Learn More
Professional & Vocational
The relationship between sport and the media raises numerous issues and problems.
This book outlines the current major policy concerns relating to the commercialization of sports broadcasting rights.
What is the impact of marketing arrangements between content owners and media companies - a combination of joint selling with exclusivity - on fans, big-city and small-city clubs, TV markets, and finally on consumer welfare?
Do consumers in Europe and the USA receive good value for the fees they pay to broadcasters? And does the way programs are delivered to the viewers (free-to-air, pay-TV or pay-per-view) have a positive or negative influence on the deal consumers receive?
These are some of the central issues discussed within this book by the international team of contributors. Providing a comprehensive view on the relations between the sports media rights market, the sports market and the different partakers in the process (club, leagues, events organisers, TV operators, intellectual property owners), this book will be of great interest to academics and sports economists alike.
With its clear and simple presentation, The Economics of Sport and the Media will also be accessible to sport federations, leagues, clubs, and policy makers at governmental and non-governmental agencies.
BIC: