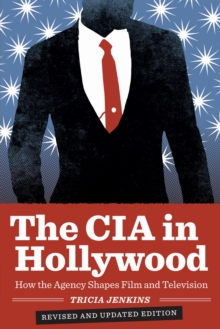 The CIA in Hollywood : how the agency shapes film and television (Second edition)
0292772467 / 9780292772465
232 pages : illustrations (black and white)
"Jenkins's book raises serious ethical and legal questions about the relationship between the CIA and Hollywood and the extent to which we consume propaganda from one through the other. . . . Should the CIA be authorized to target American public opinion?
If our artists don't confront [the question] more directly, and soon, the Agency will only continue to infiltrate our vulnerable film and television screens-and our minds." -Tom Hayden, Los Angeles Review of Books"The book makes a strong case that the CIA should not be in Hollywood at all, but that if it is, it cannot pick and choose which movies it wishes to support.
Well written and researched, this study examines a subject that has not received enough scholarly or critical attention.
Highly recommended." -Choice"A fascinating, highly readable, and original new work. . . . Incorporating effective, illustrative case studies, The CIA in Hollywood is definitely recommended to students of film, media relations, the CIA, and U.S. interagency relations." -H-Net Reviews
BIC: