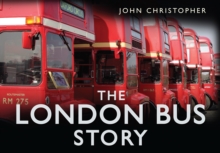 The London Bus Story (UK ed.)
0752450840 / 9780752450841
130 x 190 mm, 270 grams 128 pages
The archetypal Routemaster is arguably the most recognised vehicle in the world, as witnessed at the recent Beijing Olympic handover ceremony.
Buses have been operating on London's streets since 1829, originally with horse-drawn omnibuses, and the London Omnibus Company was founded in 1855 to regulate the various services.
The first motorised buses made an appearance in 1902 with the LGOC beginning to manufacture the buses itself two years later.
For six decades London went its own way with specially designed buses.
More recent innovations such as the 'bendy' bus have not been popular, but today practicality of pushchair and wheelchair access has consigned the Routemaster to a nostalgic, but much-loved, position.
With full-colour photographs, this book comprehensively tells the story behind London's famous red buses.
BIC:
1DBKESL London, Greater London, WGCF Buses, trams & commercial vehicles: general interest, WQH Local history