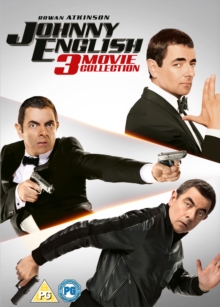 Johnny English: 3-movie Collection
Johnny English Reborn: Arabic, Icelandic
Triple bill of Rowan Atkinson's James Bond-inspired spy spoofs.
In 'Johnny English' (2003) a lowly government clerk suddenly finds himself promoted to the position of Britain's Number One International Spy.
Sent into action after the crown jewels are stolen, Johnny English (Atkinson) and his sidekick Angus Bough (Ben Miller) soon begin to suspect billionaire Pascal Sauvage (John Malkovich).
The plot thickens when the mysterious Lorna Campbell (Natalie Imbruglia) begins turning up in the most unexpected places.
In 'Johnny English Reborn' (2011), eight years after the events of the first film, Sir Johnny English's career has gone into free fall.
For the past five years he has been hiding out in a cave in Tibet, lying low and learning martial arts at a nearby monastery following the dismal failure of a mission in Mozambique.
Sir Johnny is given his last chance to prove himself when he is called back to London by MI7 for one final mission: to take out a band of international assassins intent on murdering the President of China.
Finally, in 'Johnny English Strikes Again' (2018), when a sophisticated cyberattack reveals the identities of all of Britain's active undercover agents, the government is left with no choice but to turn to English for help.
Coming out of retirement, English once again teams up with Angus Bough and sets out on a dangerous mission to track down the hacker.
However, it's not long before he runs into trouble when he comes across the alluring Ophelia (Olga Kurylenko) while also having problems with the Secret Service's array of modern gadgets.
Commentary: Johnny English Reborn: Feature Commentary
Other Documentary: 'The Making of Johnny English'; 'The Wheelchair Chase'; 'The Comedy Genius of Rowan Atkinson'; 'Johnny English Legacy'; 'A Cast of Character'; 'The Gadgets'; 'The Car'