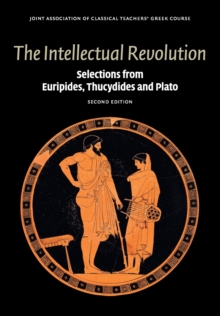 The intellectual revolution : selections from Euripides, Thucydides and Plato (Second edition)
0521736471 / 9780521736473
25 cm 176 pages : illustrations (black and white), maps (black and white)
Previous edition: 1980 At head of title: The Joint Association of Classical Teachers' Greek Course.
The Intellectual Revolution is a reader designed for students who have just completed an introductory course in ancient Greek and wish to read substantial passages of ancient authors in the original language.
It introduces three of ancient Greece's most important authors, Euripides, Thucydides and Plato, and includes such gripping and influential stories as the revenge of Medeia (as told by Euripides); the Athenians' ill-fated Sicilian expedition (from Thucydides' Histories) and the life and death of Socrates.
Notes accompanying each passage provide extensive help with vocabulary and translation, and each section contains a brief introduction to the author and his work.
The first edition of the book proved very successful with students and instructors for more than three decades.
This, the second edition, includes the same texts as the first but provides much more help with translating and understanding them in order better to meet the needs of modern students.
BIC:
2AHA Ancient (Classical) Greek, CJCR Reading skills, DB Classical texts