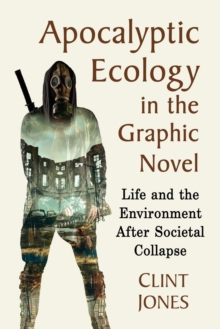 Apocalyptic Ecology in the Graphic Novel : Life and the Environment After Societal Collapse
1476668566 / 9781476668567
As awareness of climate change grows, so too increases the number of cultural depictions of environmental disasters.
Since the late twentieth century, graphic novels have reliably produced dramatizations of natural and environmental disasters.
Many of these texts use themes of dystopian hopefulness, or the enjoyment that audiences experience from watching human society prevail in times of apocalypse.
This book argues that these generally inspirational narratives contribute to a societal apathy for real-life environmental degradation. By carefully examining the narratives and artistic renderings of the environmental apocalypse in some of the most popular contemporary graphic novels, the author makes an argument against dystopian hope, arguing that the ways through which we experience depictions of apocalypse shape how we respond to real environmental crises.
BIC:
DS Literature: history & criticism, FX Graphic novels, JFFC Social impact of disasters, RNP Pollution & threats to the environment, RNPD Deforestation, RNPG Climate change, RNT Social impact of environmental issues