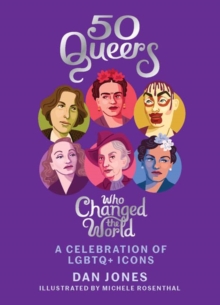 50 queers who changed the world : a celebration of LGBTQ+ icons
1784881341 / 9781784881344
17 cm 111 pages : illustrations (colour)
LGBT people are some of the coolest in history - Freddie Mercury, Divine, Virginia Woolf, Marlene Dietrich, Andy Warhol... the list goes on. Queer subculture has had an enormous impact on style, music, science, art and literature.
From Oscar Wilde, who defended his homosexual relationships in court, to Rupaul acting as an ambassador for drag on network television, queer people have fought to express their identities and make a difference.
This book will celebrate the lives, work, and unique perspectives of the icons who changed the world.
Featuring beautifully illustrated portraits and profiles, 50 Queers Who Changed the World is a tribute to some of the most inspirational people of all time
BIC: