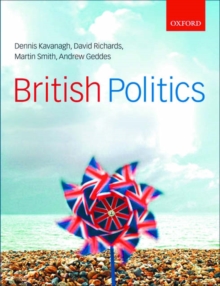 British politics (5th ed)
0199269793 / 9780199269792
Usually dispatched within 4 weeks
research & professional Learn More
academic/professional/technical
The fifth edition of British Politics is a significantly expanded work that draws on the contribution of three new political scientists and redresses the balance between the historical context of British Politics and key theoretical debates.
British Politics 5/e overcomes the traditional problem of looking at Britain in isolation and the narrow, institution-based approach to politics by re-focusing on the international context in which Britain operates, and the way in which globalization, Europeanization, and the marketization of the state have conditioned the nature of politics today.
The text is both theoretically and practically informed, combining a descriptive account of the institutions and processes of the British political system with a lively and engaging discussion of new issues and policies.It addresses numerous contemporary topics, including the impact of a third term Labour Government; the threat to individual liberty in a post-9/11 world; the London 2005 bombings; Britain's destiny as a European partner; the implications of race and asylum-seeking; the growth and effect of direct action on the political system; and a health-check on democracy in an age of electoral decline. It also considers contemporary issues surrounding the public service; participation and representation; and democracy and accountability; while providing a detailed and accessible examination of a range of policy areas (economic, welfare, transport, education, law, immigration and defence) based on recent interviews conducted by the authors themselves with key political actors.
ONLINE RESOURCE CENTRE For lecturers: seminar activities, essay questions, case studies, all figures and tables from the text.
For students: annotated web links, political commentaries, multiple-choice questions and a time-line.
BIC:
JPHC Constitution: government & the state, JPHL Political leaders & leadership