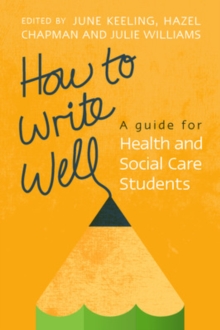 How to write well : a guide for health and social care students
0335244939 / 9780335244935
Stock expected by 12/04/2020
Good writing skills are essential for study, but many students find that they struggle to write well.
Written especially for health and social care students, this book demystifies academic writing, giving you a better understanding of what good writing looks like, and how to achieve it.Topics covered in this accessible book include:How to plan and write pieces to deadlinesHow to copyedit and proofread your own workHow to develop good writing behaviours and find motivationHow to write effective and safe service user records This user-friendly guide includes examples of good and bad writing, activities to work through, handy hints and tips at the end of each chapter and personal experiences from students, making it a must-read for any health and social care students looking for the skills and confidence to master good academic writing.
Contributors: Michael Baksh, Amanda Clarke, Elizabeth Cooper, James Greaves, Dasha Koneva, Jane Quigley, Victoria Ridgway, Dr Carol Lewis-Roylance, Pat Talbot, Richard Williams, Mary Williams. "This book is aimed at students, but I am sure that it has an audience beyond that - we all need help and encouragement to write.
Full of practical advice and examples, this book will help you to find a writing strategy that works for you and to develop our own style. Some simple but very effective ideas are used such as: making writing a normal activity; just keeping going; and not necessarily starting at the beginning."Roger Watson, Professor of Nursing, University of Hull, UK"The focus of this book is on how to write well.
As I have argued previously, we all need to be reminded of the skills required in order to make a difference to our patient, clients and their carers' lives. Lifelong learning is the way that we update our knowledge, skills and competencies. But in order to do this effectively we need to have the right skill set.
The ability to write well is fundamental to our personal and professional learning, and this is regardless of what stage we are in our careers. Writing is a skill that we use every day, be it an email to a friend or an assignment for a course. With practice we can develop and refine this essential skill. I particularly like the way the authors encourage us to be critical of our writing; this is also something that we can offer to others as critical friends."Sian E Maslin-Prothero, Professor of Nursing (Clinical), School of Nursing & Midwifery and Sir Charles Gairdner Hospital, Edith Cowan University, Western Australia
BIC:
CBW Writing & editing guides, JKS Social welfare & social services, MQ Nursing & ancillary services