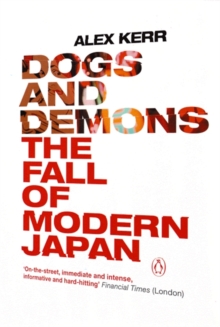 Dogs and demons : the fall of modern Japan
0141010002 / 9780141010007
The decades of Western adulation for the Japanese 'economic miracle' failed to notice a key point: that in the pursuit of this miracle the Japanese had turned their country into a degraded, concrete shambles - a wilderness of bad planning, corruption and crowding.
Now that the miracle is at an end and Japan seems set to remain in the economic doldrums it must become apparent to everyone that one of the world's greatest cultures has ruined itself almost beyond repair.
Alex Kerr's wonderful book conveys vividly and furiously both the dazzling nature of Japanese culture and how the bureaucrats of a country he loves have poisoned and ruined it.
BIC:
1FPJ Japan, 3JJ 20th century, GTB Regional studies, HBJF Asian history, HBLW3 Postwar 20th century history, from c 1945 to c 2000, KCZ Economic history