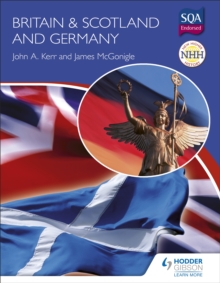 Britain & Scotland and Germany
Part of the NHH series
0340987545 / 9780340987544
Stock expected by 18/09/2020
Exam Board: SQALevel: HigherSubject: HistoryFirst Teaching: September 2014First Exam: June 2015Enables students to develop the skills required to succesfully tackle both the essay-based and source-based questions. This title has been written specifically to cover the Paper 1 content of the revised Higher History course.
It provides comprehensive coverage of the essay-based topics Britain & Scotland 1851-1951 and Germany 1815-1939.
The sections on Britain include the growth of democratic institutions in Britain, from the extension of the franchise, votes for women and the social welfare reforms of the early twentieth century to the birth of the welfare state.
The German sections of the book trace the growth of German Nationalism, the difficulties in creating a united Germany and unification, and go on to consider the rise of the Nazis and the Nazis in power. - A full-colour, topic-based approach to the revised Higher History syllabus- Covers all of the main issues within each topic area- Includes investigative techniques, use of evidence and a variety of activities
BIC:
1D Europe, 3JH c 1800 to c 1900, 3JJ 20th century, 4KST For Higher Grade (Scottish), HBJD1 British & Irish history, HBLL Modern history to 20th century: c 1700 to c 1900, HBLW 20th century history: c 1900 to c 2000