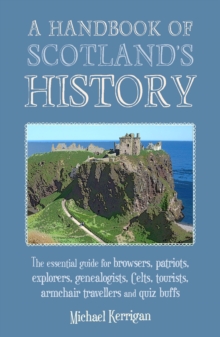 A handbook of Scotland's history
1910192333 / 9781910192337
20 cm 375 pages, 8 unnumbered pages of plates : illustrations (black and white, and colour)
The Essential Guide to Scottish History. Scotland has more history than you can shake a spurtle at, or a shinty stick, or a sporran - one of the many reasons for the nation's newfound pride in its own glorious past.
The richness of our history also explains why visitors find their trips to this land of contradictions so memorable: as stunning as our scenery is, there's plenty of tradition and time capsules aplenty to explore on a rainy day.
This handbook offers an inspirational resource for those who want to discover more about this land of Roman and Viking raids, the scene for epic battles, the historic home of the Enlightenment.
From geological origins to the momentous Independence Referendum, this is the essential accessible guide to exploring Scotland's history.
BIC: