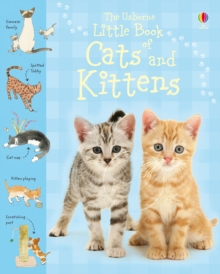 The Usborne little book of cats and kittens
0746096003 / 9780746096000
Packed with gorgeous illustrations, tips for cat-owners and fascinating insights into the feline world, this little book is the perfect gift for cat-lovers everywhere.
It is a marvelous illustrated guide full of fascinating facts on cats and kittens.
This book is full of information on cats of all shapes and sizes.
It lets you learn how kittens grow up and how cats talk.
Complete with lots of fascinating facts from cat history, myth and legend.
This book is perfect for young (and old) first time cat owners.
BIC:
Title Unavailable: Out of Print