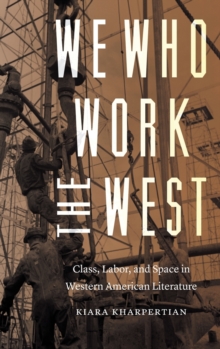 We Who Work the West : Class, Labor, and Space in Western American Literature
1496208846 / 9781496208842
Stock expected by 09/06/2020
152 x 229 mm 288 pages, Index
We Who Work the West examines literary representations of class, labor, and space in the American West from 1885 to 2012.
Moving from Maria Amparo Ruiz de Burton's representations of dispossessed Californio ranchers in the mid-nineteenth century to the urban grid of early twentieth-century San Francisco in Frank Norris's McTeague to working and unemployed cowboys in the contemporary novels of Cormac McCarthy and Larry McMurtry, Kiara Kharpertian provides a panoramic look at literary renderings of both individual labor-physical, tangible, and often threatened handwork-and the epochal transformations of central institutions of a modernizing West: the farm, the ranchero, the mine, the rodeo, and the Native American reservation. The West that emerges here is both dynamic and diverse, its on-the-ground organization of work, social class, individual mobility, and collective belonging constantly mutating in direct response to historical change and the demands of the natural environment.
The literary West thus becomes more than a locus of mythic nostalgia or consumer fantasy about the American past.
It becomes a place where the real work of making that West, as well as the suffering and loss it often entailed, is reimagined.
BIC:
1KBB USA, 3JJ 20th century, DSB Literary studies: general, DSBH Literary studies: from c 1900 -