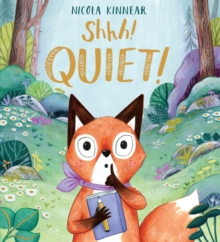 Shhh! Quiet!
1407188860 / 9781407188867
28 cm 32 unnumbered pages : chiefly illustrations (colour)
A funny, heart-warming picture book story about the value of being quiet - and how to find your voice when it really matters. Quiet little Fox has a big problem: her friends are so noisy, she can never make herself heard! What she really wants to do is tell them stories, if only they'd stop shouting and listen.
But being quiet has its uses. Fox notices all the small things that her noisy friends miss: like the claw marks and paw marks of a great big scary bear! It takes courage for Fox to speak up and warn her friends - and even more courage to tell that scary bear a bedtime story! Enjoy this brilliant picture book about the power of storytelling with your little one, guaranteed to entertain quiet and noisy children alike, from creator of A Little Bit Brave. A fun picture book to keep little ones entertained, even the less quite ones! A brilliant introduction to self-confidence and self-value for small children A fantastic picture book for children aged 3 and up, and a conversation-opener for discussions around friendship, courage and shyness
BIC:
JMQ Psychology: emotions, WDHW Role-playing, war games & fantasy sports, WND The countryside, country life, YBCS Picture storybooks, YFP Animal stories (Children's / Teenage), YNN Natural history (Children's/Teenage), YNNR Wildlife (Children's / Teenage), YXL Personal & social issues: self-awareness & self-esteem (Children's / Teenage)