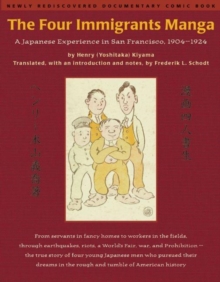 The four immigrants manga : a Japanese experience in San Francisco, 1904-1922
1880656337 / 9781880656334
* Translator is well known Japan expert, with over 50K sales, incl.
Manga! Manga! (Kodansha, 0870117521, 30,000 cps), America and the Four Japans (1-880656-06-X, 3,500 cps), and Dreamland Japan (1-880656-23-X, 9,000+ cps) both Stone Bridge Press * Documentary comic book narrative on serious subject (cf Art Spiegelman's Maus) * Large Asian-American population throughout US * Also shows uneasy relationship between early Japanese and Chinese immigrants * Reprint from 1931 original.
This is a rediscovery. The author died in the1950's. * Based on actual events from the early 20th century.
BIC:
1KBB USA, 3JJC c 1900 - c 1914, 3JJF c 1914 to c 1918 (including WW1) , 3JJG c 1918 to c 1939 (Inter-war period), HBJK History of the Americas, HBLW 20th century history: c 1900 to c 2000, HBTB Social & cultural history, JFFN Migration, immigration & emigration, JHMP Physical anthropology, JPVH1 Civil rights & citizenship