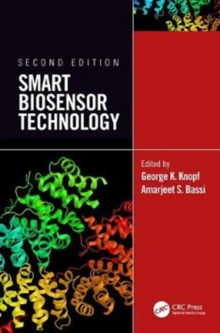 Smart biosensor technology (Second edition)
1498774482 / 9781498774482
26 cm 577 pages : illustrations (black and white)
Based on the success of the first edition, this second edition continues to build upon fundamental principles of biosensor design and incorporates recent advances in intelligent materials and novel fabrication techniques for a broad range of real world applications.
The book provides a multi-disciplinary focus to capture the ever-expanding field of biosensors.
Smart Biosensor Technology, Second Edition includes contributions from leading specialists in a wide variety of fields with a common focus on smart biosensor design.
With 21 chapters organized in five parts, this compendium covers the fundamentals of smart biosensor technology, important issues related to material design and selection, principles of biosensor design and fabrication, advances in bioelectronics, and a look at specific applications related to pathogen detection, toxicity monitoring, microfluidics and healthcare.
FeaturesProvides a solid background in the underlying principles of biosensor design and breakthrough technologies for creating more intelligent biosensorsFocusses on material design and selection including cutting-edge developments in carbon nanotubes, polymer nanowires, and porous silicon Examines machine learning and introduces concepts such as DNA-based molecular computing for smart biosensor functionExplores the principles of bioelectronics and nerve cell microelectrode arrays for creating novel transducers and physiological biosensorsDevotes several chapters to biosensors developed to detect and monitor a variety of toxins and pathogensOffers expert opinions on the future directions, challenges and opportunities in the field
BIC:
MMR Environmental medicine, MQW Biomedical engineering, TBM Instruments & instrumentation engineering, TCBS Biosensors