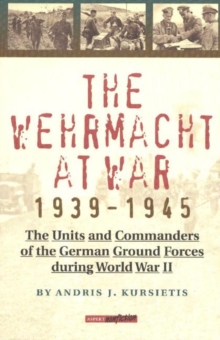 The Wehrmacht at War, 1939-45 : The Units and Commanders of the German Ground Forces During WW2
9075323387 / 9789075323382
Usually dispatched within 4 weeks
230 x 155 mm, 775 grams 600 pages, b/w photos
General (US: Trade) Learn More
Professional & Vocational
Postgraduate, Research & Scholarly
Undergraduate
The culmination of twenty-five years of research and three years of writing, and a unique, in depth presentation of the order of battle and commanders of the German Army ground forces during World War II.
Although there are numerous other books that have been published on the order of battle of the German Army, none contain the depth of detail concerning the commanders of the units and the biographies of the Generals that are included in this work.
Indeed, it was with the express purpose of filling this gap in information that existed on the subject that this book was written.
BIC:
1DFG Germany, HBJD European history, HBWQ Second World War, JWD Land forces & warfare, JWL War & defence operations
* Variable discounts between 0% and 15% are applied to items where BBfS cannot determine exact discounts from suppliers.