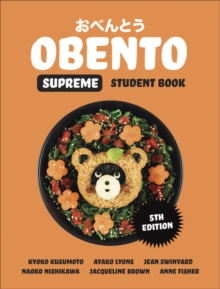 Obento Supreme Student Book with 1 Access Code for 26 Months (5 Student edition)
0170417689 / 9780170417686
211 x 276 mm, 782 grams 268 pages
The Obento series is the market-leading Japanese series for Years 7-10 students in Australia.
This fifth edition is revised and updated with greater explicit alignment to The Australian Curriculum: Japanese, greater support for the acquisition of Japanese script, streamlined and high-calibre digital content and a more cohesive 7-10 series. The full-colour student book provides the core language and script and intercultural awareness and understanding are carefully integrated into relevant topics.
All script s presented in context, so students develop their core language learning skills of listening, speaking and reading as students progress through the content. NelsonNet resources available*Teacher Resources:* Includes all student resources* Chapter PDFs* Grammar PowerPoint presentations* Workbook solutions (PDFs)* Worksheets and solutions* Curriculum grids* Audio and video transcripts* Tests and solutionsStudent Resources:* Animated cartoon stories* Play and say vocab* Videos#* Language and script quizzes* Student book audio* Workbook audio and videos#*Complimentary access to NelsonNet is available to teachers who use the accompanying student book as a core resource in their classroom.
Contact your local education consultant for access codes and conditions. #Available with purchase of Obento Supreme WB only.
BIC:
2GJ Japanese, CJ Language teaching & learning (other than ELT)