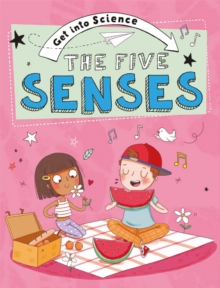 1445170213 / 9781445170213
25 cm 32 pages : illustrations (colour)
Reprint. Originally published: 2020.
This first science book exploring the science behind the five senses provides a great foundation for scientific knowledge.
From sight and hearing to touch, smell and taste, the book has clear information, fun illustrations and plenty of interactivity from challenges to think about and activities to try.
It also has lots of facts about animal senses and would be a great resource for comparing humans with other animals. Get into Science is a series of eight books for children aged 6+ that explore the science that surrounds them in their everyday world.
Each page is full of things for the reader to notice, talk about and try for themselves.
The simple text is accompanied by fun illustrations.
Why not discover all the titles:Light and DarkMachines We UseForces Around UsFull of EnergySolid, Liquid or Gas?The Five SensesTimeYou and Your Body
BIC:
4KHJ For National Curriculum Key Stage 2, 5AG Interest age: from c 6 years, YNT Science & technology: general interest (Children's / Teenage)