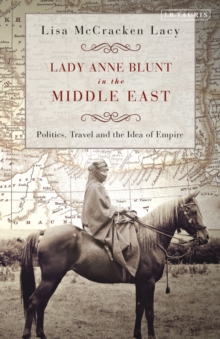 Lady Anne Blunt in the Middle East : travel, politics and the idea of empire
0755600940 / 9780755600946
Lady Anne Blunt was a woman ahead of her time. After marrying the poet Wilfrid Scawen Blunt in 1869, the pair travelled extensively in the Middle East, developing an especial fondness for the region and its people.
In this book, Lisa Lacy explores the life, travels and political ideas of Lady Anne.
With a broad knowledge of the Arab world, she challenged prevailing assumptions and, as a result of her aristocratic heritage, exerted strong influence in British political circles.
Her extensive journeys in the Mediterranean region, North Africa, Egypt, Arabia, Syria, Iraq and Persia formed the basis of her knowledge about the Middle East.
She pursued an intimate knowledge of Bedouin life in Arabia, the town culture of Syria and Mesopotamia and the politics of nationalism in Egypt.
Her husband, Wilfrid Scawen Blunt, gained a reputation as an anti-imperialist political activist.
Lacy shows that Lady Anne was her husband's partner in marriage, politics and travel and exerted strong influence not only on his ideas, but on the ideas of the British political elite of the era.
BIC:
BGH Biography: historical, political & military, HBJF1 Middle Eastern history, HBLL Modern history to 20th century: c 1700 to c 1900, WT Travel & holiday, WTL Travel writing, WTLC Classic travel writing