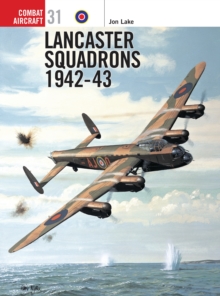 Lancaster squadrons, 1942-43
1841763136 / 9781841763132
Usually dispatched within 4 weeks
25 cm 96 p. : ill. (some col.)
The RAF's most successful heavy bomber of World War 2, the Avro Lancaster formed the backbone of Bomber Command during the large-scale night bombing campaign against occupied Europe.
Produced in massive numbers (7300+ up to VE-Day), the first examples entered squadron service on Christmas Eve 1941, and tasted combat the following March.
The first of two volumes on the British bomber icon of World War 2, this volume covers the early daylight raids, the first 1000 bomber raids on Germany and the epic Dambusters mission of 16/17 May 1943 by No 617 Sqn.
BIC:
1DBK United Kingdom, Great Britain, 3JJH c 1939 to c 1945 (including WW2), HBG General & world history, HBJD1 British & Irish history, HBW Military history, HBWQ Second World War, JWG Air forces & warfare, JWLF Battles & campaigns, JWMV Military vehicles