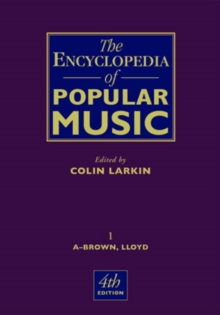 The encyclopedia of popular music (4th ed)
0195313739 / 9780195313734
Usually dispatched within 2 weeks
Previous ed.: London: Muze, 1998.
Special introductory price: 555 pounds until 31 March 2007 (thereafter 720 pounds). t RL d Download Colin Larkin's introduction to the Encyclopedia of Popular Music as an audio file. l http://www.oup.co.uk/reference/epm/
First published in 1990, The Encyclopedia of Popular Music is the largest project ever undertaken on the subject.
This authoritative biographical encyclopedia of rock, pop, and jazz artists covers popular music from 1900 to the present, including folk, blues, world music, rock, heavy metal, techno, reggae, and hip hop.
Edited and largely written by Colin Larkin, it is exhaustive, meticulous, authoritative - and incredibly fun to read.
Critically acclaimed in its previous three editions, the Fourth Edition will not disappoint fans seeking authoritative and reliable information about popular music from around the world.
Expanded to ten volumes, the new edition contains 6,000 new entries and extensive revisions and updates throughout the existing text, yielding 50% more material than the 1998 Third Edition.
In addition to thousands of biographical entries, this A-Z reference also includes entries covering popular music genres, trends, styles, record labels, venues, and festivals.
Key dates, biographies, and further reading are provided for artists covered, along with complete discographies that include record labels, release dates, and a 5-star album rating system.The text also features a special section of album entries, focusing on the most critically significant offerings.
From Grateful Dead to The Killers, from Whitesnake to White Stripes, from R.E.M. to Blink-182, from The Jazz Singer to Jerry Springer - The Opera, and from Bye Bye Birdie to Rent, The Encyclopedia of Popular Music, Fourth Edition has something informative and clever to say about everyone's favourite performer.
The Encyclopedia of Popular Music will also be available online from Spring 2007, and will be interactive with Grove Music Online!
Special introductory price: 555 pounds until 31 March 2007 (thereafter 720 pounds).
BIC:
* Variable discounts between 0% and 15% are applied to items where BBfS cannot determine exact discounts from suppliers.