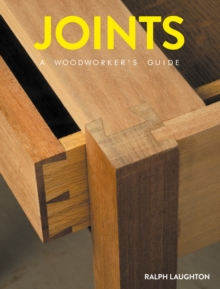 Joints : a woodworker's guide
1784944416 / 9781784944414
Stock expected by 03/07/2021
28 cm 175 pages : illustrations (colour)
Reprint. Originally published: as Success with joints. 2005.
Joints: A Woodworker's Guide takes one of the most important and challenging aspects of woodworking and demystifies the all-important subject of choosing, designing and cutting woodworking joints.
Strong, appropriate and well-fitting joints are one of the hallmarks of the skilled woodworker.
Making them properly and accurately calls for good planning and marking out as well as a good degree of care in the cutting, fitting and final assembly.
It is essential to approach making joints methodically, this book provides all the necessary information to ensure success. Aimed at both those new to woodworking as well as the experienced woodworker, Joints: A Woodworker's Guide is broken down into three main sections: planning and preparation, basic techniques of joint making and individual joints in detail. Areas covered include: Planning the work and preparing the wood; Measuring and marking; Cutting and fitting, Glues and assembly. AUTHOR: Ralph Laughton trained as an engineer, but did not follow that path.
Instead, on leaving full-time education he embarked on a career as an editor for a specialist publisher.
This led him into the world of graphic design, where he found it possible to indulge a creative passion for well over twenty years.
It was at this point that he decided to take an opportunity to realize a life-long dream.
He is now a full-time woodworker designing and building funiture, repairing old joinery and writing about the techniques that he has spent nearly forty years acquiring. SELLING POINTS: A methodical approach to this crucial woodworking skill Includes sections on all stages from planning to assembly Covers a selection of essential joints With clear, step-by-step instructions and photography throughout Suitable for both new and experienced woodworkers
BIC:
WFL Decorative wood & metalwork, WKDW DIY: carpentry & woodworking