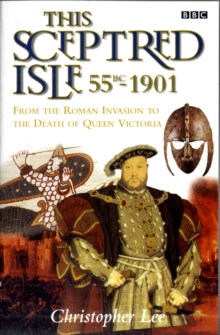 This sceptred isle
0140261338 / 9780140261332
Usually dispatched within 4 weeks
20 cm xxiii, 642p. : geneal. tables
Reprint. Radio tie-in. Originally published: 1997.
This history of Britain begins with the Roman invasion in 55 BC and ends with Queen Victoria's death in 1901.
Written to accompany the award-winning BBC Radio 4 series, the work brings to life the events and personalities that have shaped our nation.
It tells of wars, bloodshed, murder and revenge, and of the tremendous social changes which the people of these islands have witnessed over the centuries.Weaving his text with accounts from contemporary chronicles and diaries, and extracts from Winston Churchill's "A History of the English-Speaking Peoples", Christopher Lee describes the evolution of Britain's great institutions, the powers of its kings and queens, and charts its political and economic development.
BIC:
1DBK United Kingdom, Great Britain, HBJD1 British & Irish history