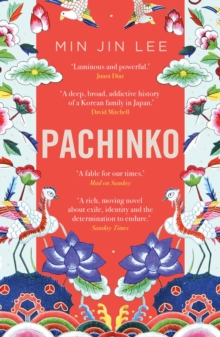 Pachinko
178669137X / 9781786691378
* Shortlisted for the National Book Award * * One of the New York Times's 10 Best Books of 2017 * * Selected for Emma Watson's Our Shared Shelf book club * 'This is a captivating book ...
Min Jin Lee's novel takes us through four generations and each character's search for identity and success.
It's a powerful story about resilience and compassion' BARACK OBAMA.
Yeongdo, Korea 1911. In a small fishing village on the banks of the East Sea, a club-footed, cleft-lipped man marries a fifteen-year-old girl.
The couple have one child, their beloved daughter Sunja.
When Sunja falls pregnant by a married yakuza, the family face ruin.
But then Isak, a Christian minister, offers her a chance of salvation: a new life in Japan as his wife.
Following a man she barely knows to a hostile country in which she has no friends, no home, and whose language she cannot speak, Sunja's salvation is just the beginning of her story.
Through eight decades and four generations, Pachinko is an epic tale of family, identity, love, death and survival.
BIC:
£6.29
RRP £8.99
The title has been replaced. To check if this specific edition is still available please contact Customer Care +44(0)1482 384660 or schools.services@brownsbfs.co.uk, otherwise please click 9781838930509 to take you to the new version.
Other Formats