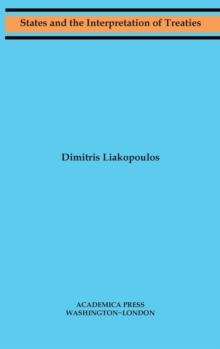 States and the Interpretation of Treaties
1680531344 / 9781680531343
States and the Interpretation of Treaties opens with a provocative reconsideration of a debate on the subject of comparative international legal obligations by the United Nations's International Law Commission.
In this book, distinguished Tufts University legal scholar Dimitris Liakopoulos identifies and explores relevant considerations in the work of the Commission and offers an overview of the status of international law as defined by the United Nations authority responsible for its codification and development.
The Commission's conclusions form the starting point for an insightful comparative approach to international law and liability.
BIC:
JPS International relations, LAM Comparative law, LBBC Treaties & other sources of international law, LBBU International organisations & institutions