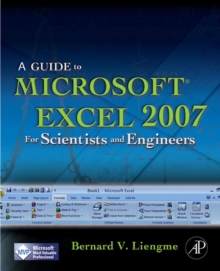 A guide to Microsoft Excel 2007 for scientists and engineers
012374623X / 9780123746238
Usually dispatched within 4 weeks
Completely updated guide for scientists, engineers and students who want to use Microsoft Excel 2007 to its full potential. Electronic spreadsheet analysis has become part of the everyday work of researchers in all areas of engineering and science.
Microsoft Excel, as the industry standard spreadsheet, has a range of scientific functions that can be utilized for the modeling, analysis and presentation of quantitative data.
This text provides a straightforward guide to using these functions of Microsoft Excel, guiding the reader from basic principles through to more complicated areas such as formulae, charts, curve-fitting, equation solving, integration, macros, statistical functions, and presenting quantitative data.
BIC: