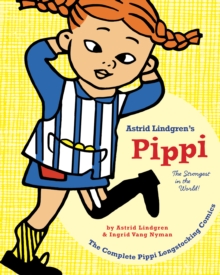 Pipii longstocking : the strongest in the world!
1770462155 / 9781770462151
25 cm 160 pages : illustrations (colour)
Translated from the Swedish.
Who can rescue babies from a burning building, outwit burglars, overpower a circus strongman, and still get home in time for Christmas?
Pippi Longstocking can! Pippi Longstocking: The Strongest in the World! collects more than one hundred pages of comics from Pippi's creator, Astrid Lindgren, and her collaborator, the illustrator Ingrid Vang Nyman. Unearthed by D+Q and republished between 2011 and 2014, these mid-century comics had never before been seen by North American audiences.
Pippi Longstocking: The Strongest in the World! is a fitting tribute to one of the world's most beloved fictional characters
BIC:
YFW Comic strip fiction / graphic novels (Children's / Teenage)