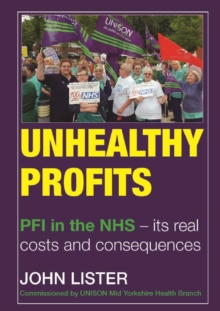 Unhealthy Profits
0244734429 / 9780244734428
Usually dispatched within 4 weeks
148 x 210 mm, 345 grams 288 pages
The Private Finance Initiative (PFI) ? the use of private funds to build public sector infrastructure ? began in 1992. Since then it has been one of the most contentious policies advocated by both Conservative and Labour governments.
After 25 years of costly failure the policy has now been abandoned by Labour and Tory parties. 125 British PFIs are NHS projects, which will cost over ?80 billion for buildings built for ?12bn.
Many PFI companies are now owned offshore, paying no tax on profits, while the extra costs of PFI hang like a millstone dragging down NHS trusts.
Unhealthy Profits explores the theory and practice, costs and consequences of PFI, how it has spread world-wide, and what can be done about it. And as a unique case study, it tells the story of the UNISON Branch in Mid Yorkshire Hospitals Trust that has commissioned the book ? and fought PFI all the way.
BIC: