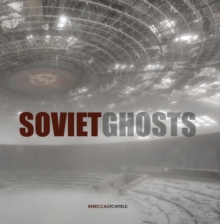 Soviet ghosts (Second edition)
1908211164 / 9781908211163
26 cm 1 volume (unpaged) : illustrations (black and white, and colour)
Photographer Rebecca Litchfield captures many abandoned locations, which were either part of the Soviet Union or occupied satellite states during this period of history, including forgotten towns, factories, prisons, schools, monuments, hospitals, theatres, military complexes, asylums & death camps across the former communist states.
These photographs deliver a compelling narrative of both moral bankruptcy and flawed ideology.
Featuring stunning imagery throughout, this compelling road-trip through the old USSR, breathes new life into these forgotten places, finding both beauty and meaning in their post-apocalyptic decay.
Extended essays by Tristi Brownett, Neill Cockwill and Professor Owen Evans, offer considerable contextual depth to the locations imbuing them with a wealth of connection and wonder.
By virtue of its holistic approach, the book also explores how and why these once thriving communities became abandoned, whether by natural disaster, man-made catastrophe or simply through the march of time.
BIC: