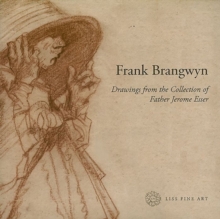 Frank Brangwyn : Drawings from the Collection of Father Jerome Esser
0993088406 / 9780993088407
Stock expected by 02/02/2020
During his lifetime Brangwyn made large donations of his works to museums in the United Kingdom and abroad, including the Victoria & Albert Museum, the British Museum, the William Morris Gallery, the Albertina in Vienna and the Gruuthuse in Bruges.
As a result of this munificence, substantial drawings by Brangwyn, especially his celebrated large sheets in red and black chalk, only rarely appear on the market. Milestones in the collecting of Brangwyn drawings include the Christie's sale of William de Belleroche's collection (1961), and Edgar Horn's sale of Edgar Peacock's collection (2000).
The recent discovery of works belonging to Brangwyn's admirer, Father Jerome Esser, presented in this catalogue, marks a further watershed for collectors. The drawings that became Esser's collection, which have lain hidden for over half a century, were made up of works that Brangwyn, with characteristic modesty, had left in his studio with a written instruction, `most of this lot destroy'.
Never intended for presentation, they explore and resolve alternative compositions and the relation of figures to each other and to the space they occupy.
Esser, himself a gifted artist, would have appreciated these sheets, complete with folds, scuffs and splodges of paint, as true working drawings.
Brangwyn himself believed that `sketches show the most intimate side of an artist's career ... [studies] are usually the best thing an artist does.'
BIC: