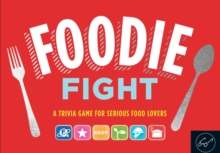 Foodie Fight
1452169470 / 9781452169477
171 x 121 mm 168 pages, 167 cards, 1 colour die, 6 game boards, 108 game pieces, 4-colour icon illustrations
From Joyce Lock, creator of the games Foodie Fight, Wine Wars, and Foodie Fight Rematch, member of Les Dames d'Escoffier, and judge for the James Beard foundation book awards.
More than 100,000 copies sold. Test your food knowledge and challenge your friends.
This fully revised, modern version of the bestselling Foodie Fight game gives food lovers a refreshing new reason to play the game and test their food knowledge.
This addictively fun, classic board game is now revised and updated with 50 percent new content and questions.
Gamers, foodies, pop culture fans, trivia fanatics and anyone interested in the culture of cuisine around the world can compete with their friends and family with more than 1,000 questions-on celebrity chefs, food science, food history, and more-to find the ultimate foodie.
Game night will never be the same!* Revised with 50 percent new questions for even more fun* More than 1,000 food-related trivia questions* Challenging questions for die-hard foodiesPeople who like trivia games, such as Trivial Pursuit Game: Classic Edition and I Should Have Known That! will love this trivia board game. * Makes a great gift for food lovers, avid cooks, chefs, and people who like cooking shows* Fun family game for adults and kids aged 12 and up* Anyone who loves trivia will have fun with this board game
BIC: