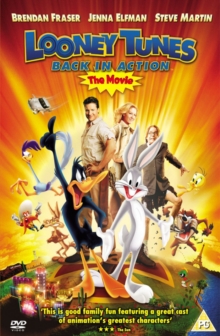 Looney Tunes: Back in Action - the Movie
Dutch, English, French, Arabic
Director Joe Dante merges live-action film with animation for this action-packed Looney Tunes adventure.
Daffy Duck (voiced by Joe Alaskey), tired of being upstaged by his rival character Bugs Bunny (also voiced by Alaskey), quits Hollywood in the company of fired studio stuntman D.J.
Drake (Brendan Fraser). When the pair discover that Drake's father, Damian Drake (Timothy Dalton), a movie actor best known for his roles as Bond-style secret agents, really IS a secret agent, and has been kidnapped by the dreaded Mr Chairman (Steve Martin), they set out to rescue him.
Damian knows the secret hiding place of the legendary Blue Monkey Diamond, and Mr Chairman will do whatever it takes to get his hands on it.
Meanwhile, Daffy and Drake are being pursued across the world by Bugs Bunny and Warner's Head of Comedy, Kate Houghton (Jenna Elfman), who have realised how essential Daffy is to their successful cartoon-making and want to lure him back to the studio.
From Hollywood to Paris, Las Vegas to the African jungle, the mis-matched gang fall into all kinds of madcap adventures.