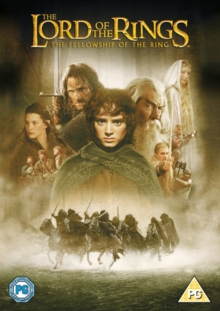 The Lord of the Rings: The Fellowship of the Ring
First instalment of the epic fantasy trilogy based on the novels by J.R.R.
Tolkien. When hobbit Frodo (Elijah Wood) learns that his elderly uncle Bilbo (Ian Holm) is harbouring the ultimate Ring of Power, he is entrusted by wizard Gandalf the Grey (Ian McKellen) to deliver the Ring out of the Shire without it falling into the hands of the Nazgul.
Frodo leaves the Shire aided by Merry (Dominic Monaghan), Pippin (Billy Boyd) and trusty friend Sam Gamgee (Sean Astin), but they soon realise that the agents of Mordor are everywhere and that their trip is far from over.
Once they reach the Elvish realm of Rivendell, the hobbits form part of the fellowship, which includes Aragorn (Viggo Mortensen), Boromir (Sean Bean), elf Legolas (Orlando Bloom), dwarf Gimli (John Rhys-Davies) and Gandalf, tasked with destroying the Ring by casting it into the fiery chasm of Mount Doom.
Other Documentary: 'Welcome to Middle-Earth', 'Quest for the Ring', 'A Passage to Middle-Earth', 'Finding Hobbiton', 'Hobbiton Comes Alive', 'Believing the World of Bree', 'Ringwraiths - The Fallen Kings', 'Rivendell - The Elven Refuge', 'Languages of Middle-Earth', 'Two Wizards', 'Music of Middle-Earth', 'Weathertop - The Windy Hill'
Bonus Tracks: Enya 'May It Be' music video