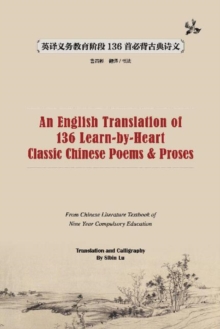 An English Translation of 136 Chinese Classic Poems and Proses : From Chinese Literature Textbook of 9-year Compulsory Education
109830487X / 9781098304874
Stock expected by 14/07/2020
6 x 228 mm, 0 grams 288 pages
Chinese classical poetry contains the true, the good and the beautiful of Chinese traditional culture.
I once said, "the more national, the more global". The definition of language in modern linguistics extends to "A language is actually the culture".
In today's information technology era, language is still the primary tool of communication.
In the nine-year compulsory education period, 136 must-recited ancient poems have become the language materials of every Chinese speaker's utterance.
According to the jargon of modern linguistics, these poems have been the conventional usages of native Chinese speakers.
In cross-cultural situations, however, this "convention" may bring about obstacles in inter-language communication.
This book translates them into English with the intention that, after reading it in contrast, readers can quickly integrate the English-rendered lines corresponding to the commonly-used Chinese poem lines into the communication. The Chinese classical poems selected by primary and junior middle schools are the most familiar classic text.
There are many English translations and many excellent works.
The translation of this book focuses on making the English version of the 136 poems easy to understand for Chinese English learners and poetic to read for English native speakers and Chinese language learners. Another purpose of this book is to provide Chinese students in mainland China and Chinese learners overseas with a Chinese-English bilingual reader of both simple and traditional style of characters. This book can also be used as an extracurricular reading material or even a reference book for college students, Chinese and English teachers.
BIC: