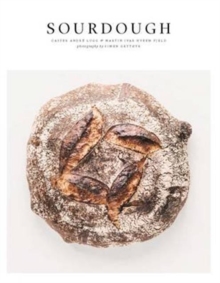 Sourdough
1911130056 / 9781911130055
160 pages : illustrations
"I have finally mastered the dark art of sourdough baking.
Here's how. Sourdough...nails the process, good and proper." - Adrian Chiles, The Guardian Sourdough is a traditional style of bread that is both healthy and delicious, making it a favourite of artisan bakers.
Sourdough takes patience, forethought and love to produce, and its rise in popularity is indicative of a greater shift towards a more mindful, considered way of living. Suitable for those with no prior experience of sourdough as well as those keen to expand their baking repertoire, this elegant book by Norwegian bakers Casper Andre Lugg and Martin Ivar Hveem Fjeld includes an introduction to making your own starter and basic bread, 15 specialist recipes with clear step-by-step instructions and a foreword by Vanessa Kimbell, founder of The Sourdough School.
BIC: