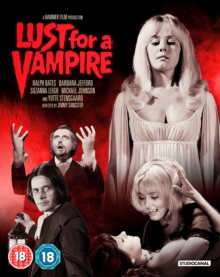 Blu-ray (Blu-ray / with DVD - Double Play)
(18) Suitable for 18 years and over.
1970s Hammer horror. A girl's finishing school in Transylvania has its ranks swollen by the enrolment of the beautiful Mircalla Karnstein (Yutte Stensgaard).
English author Richard Lestrange (Michael Johnson) falls for her seductive yet lethal charms, for Mircalla is a vampire and Richard has to save her from the wrath of his fellow villagers, whilst protecting himself against her deadly kiss.
Interviews: Judy Matheson (actor)
Other Documentary: 'Strange Love: Hammer in 1970', 'Script to Screen: To Love a Vampire'