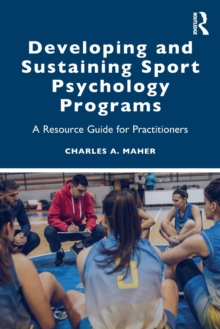 Developing and sustaining sport psychology programs : a resource guide for practitioners
0367345560 / 9780367345563
184 pages : illustrations (black and white)
Developing and Sustaining Sport Psychology Programs: A Resource Guide for Practitioners outlines a systemic approach to creating comprehensive, sustainable sport psychology programs in professional sports organizations, colleges, universities, and at secondary school levels. Based on the author's more than 30 years of professional experience, this volume presents a framework that delineates methods for designing, implementing, and evaluating sport psychology programs, discussing topics such as needs assessment and client identification.
Featuring real-world experiences and clear, non-technical writing, this step-by-step guide can be applied to a range of sport psychology programs including mental skills, life skills, coach education, leadership training, and team development programs. Developing and Sustaining Sport Psychology Programs details a program development process that has been applied successfully at the professional, collegiate, and secondary school levels over a more than 30-year period.
It has contributed to the development of sport psychology programs that have sustained themselves over the course of time and is an essential text for sport psychologists and mental skills coaches at all levels as well as graduate students and other professionals in the field.
BIC: