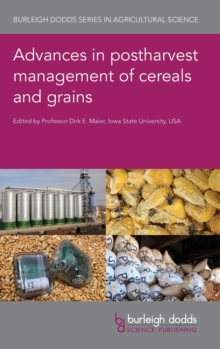 Advances in postharvest management of cereals and grains
1786763524 / 9781786763525
23 cm 300 pages : illustrations (colour)
Post-harvest losses of cereals and other grains, whether from spoilage microorganisms or insect pests, remain a significant issue in both the developed and developing world.
Challenges include restrictions on chemicals for decontamination and increasing levels of insect resistance.
This collection reviews the wealth of research addressing those challenges. Part 1 of this collection assesses the causes of postharvest losses from fungal contamination, insect and rodent pests.
Part 2 reviews advances in bulk and other storage technologies, including developments in detection as well as management of insect pests using techniques such as controlled atmospheres, biocontrol techniques and irradiation.
The book also reviews advances in the detection and control of fungal contamination together with ways of monitoring the quality of stored cereal grains.
BIC:
TVF Sustainable agriculture, TVKC Cereal crops, TVP Pest control