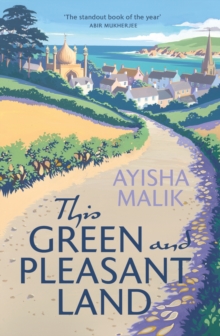 This green and pleasant land
1785767542 / 9781785767548
The standout new novel by acclaimed author Ayisha Malik - perfect for fans of The Casual Vacancy, The Unlikely Pilgrimage of Harold Fry and Middle England. Everyone has a place they call home. But who gets to decide where you belong?For years Bilal Hasham and his wife Mariam have lived contented, quiet lives in the sleepy rural village of Babbel's End.
Now all that is about to change. On her deathbed, Bilal's mother reaches for his hand.
Instead of whispering her final prayers, she gives him a task: build a mosque in his country village. Mariam is horrified by Bilal's plan. His friends and neighbours are unnerved. As outrage sweeps Babbel's End, battle lines are drawn.
His mother's dying wish reveals deeper divisions in their village than Bilal had ever imagined. Soon Bilal is forced to choose between community and identity, between faith and friendship, between honouring his beloved mother's last wish and preserving what is held dear in the place that he calls home. * * * 'A novel that touches our capacity for human sympathy and connection in important ways' - The Times'An inquiry into faith, identity and the meaning of home' - Guardian 'This Green and Pleasant Land is a clever and thoughtful novel about identity and belonging . . . the perfect novel for these Brexit-y times that we're living in' - Red Magazine 'Exploring identity, belonging and divided loyalties between familial obligation and national identity, this is a prescient novel in our uncertain Brexit times' - Cosmopolitan 'This Green and Pleasant Land, a novel that simmers with tenderness, is a deeply relevant book that isbound to ruffle a fair few feathers, but the right feathers, and for the right reasons' - Caroline O'Donoghue'At the heart of this book lies the simple question: who decides to who and what we belong?
This is Malik's best work to date - satirical, controversial, knowing and essential' - Vaseem Khan'Wish I could prescribe it to the country' - Daisy Buchanan'Thoughtful, funny, excellently written and deserves to be read by everyone . . . it's the standout book of the year' - Abir Mukherjee
BIC: