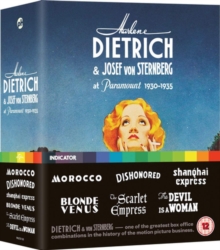 Marlene Dietrich & Josef Von Sternberg at Paramount 1930-1935
Blu-ray (Blu-ray / Limited Edition with Book)
(12) Suitable for 12 years and over.
Collection of six 1930s romantic dramas starring Marlene Dietrich and directed by Josef von Sternberg.
In 'Morocco' (1930) legionnaire Tom Brown (Gary Cooper) meets singer Amy Jolly (Dietrich) at a smoky cabaret in 1920s Morocco, and the two fall hopelessly in love.
But Amy is a woman with a very checkered past that's always threatening to catch up with her.
In 'Dishonored' (1931) Dietrich stars as Marie, an Austrian prostitute who is working as a spy during World War I.
As Agent X-27, Marie is a great asset to her superiors and seduces and betrays enemy officers with ease.
But when she falls in love with Colonel Kranau (Victor McLaglen), a Russian spy, she allows him to escape and, as a result, is arrested and sentenced to death.
In 'Shanghai Express' (1932) notorious adventuress and seductress Shanghai Lily (Dietrich) boards the express train to Shanghai and finds herself reunited with medical corps officer Captain Donald Harvey (Clive Brook), the man whom deserted her but she has never stopped loving.
Also on board the train is merchant Henry Chang (Warner Oland), who unsuccessfully propositions Lily.
However, it transpires that Chang is really a rebel leader, and when his men storm the train he threatens to have Donald tortured unless Lily accedes to his sexual demands.
In 'Blonde Venus' (1932), after giving up her dreams of stardom to marry, aspiring actress Helen Faraday (Dietrich) discovers that her scientist husband, Edward Faraday (Herbert Marshall), is suffering from radium poisoning.
In order to raise the cash for a cure Helen finds work as a cabaret hostess, and is romanced by wealthy playboy Nick Townsend (Cary Grant).
Nick gives Helen the money for her husband's treatment, and she takes up residence in her new beau's empty mansion - only for her indiscretion to be discovered when Edward recovers more speedily than she expected.
In 'The Scarlett Empress' (1934) German-born Princess Sophia (Dietrich) is married off to Russia's half-mad Grand Duke Peter (Sam Jaffe), in the hope of improving the royal blood line.
Forced to continue in a loveless marriage, and put up with the eccentricities of her mother-in-law, Empress Elizabeth (Louise Dresser), Catherine finds comfort in the arms of a succession of soldiers and the opportunistic Count Alexei (John Lodge).
Forever anxious to strengthen her power base, Catherine's chance finally arrives with the death of the aged Elizabeth, allowing her to assume the title of Empress.
In order to overcome her treacherous husband and achieve her future legacy, Catherine attempts to stage a coup d'état with the aid of the military.
Finally, in 'The Devil Is a Woman' (1935), set against the background of a Spanish carnival, young army officer Antonio Galvan (Cesar Romero) is warned against getting involved with the seductive and sultry Concha Perez (Dietrich), whom he has just encountered.
Although Don Pasqual (Lionel Atwill), the older officer warning him, tries his best to dissuade the younger man, telling him of her gold-digging ways, his pleas fall on deaf ears as Antonio soon becomes bewitched.
When, days later, he stumbles upon the couple in the street, all of Pasqual's past jealousies and hurt resurface, forcing him to confront Antonio in a final, desperate bid for Concha's love.
Interviews: Erica Carter (author), So Mayer (author), Nathalie Morris (author), Jasper Sharp (writer)
Commentary: 'Morocco': Samm Deighan and Kat Ellinger (Daughters of Darkness); 'Shanghai Express': David Thompson (critic); 'Blonde Venus': Adrian Martin (film critic); 'The Scarlett Empress': Tony Rayns (writer)
Other Documentary: 'Josef von Sternberg, a Retrospective' (1969), 'Marlene Dietrich: The Twilight of an Angel' (2012), 'The Fashion Side of Hollywood' (1935), 'If It Isn't a Pain' (1935), 'Von Sternberg at the BFI' (2009), 'The Art of Josef von Sternberg' (2019)