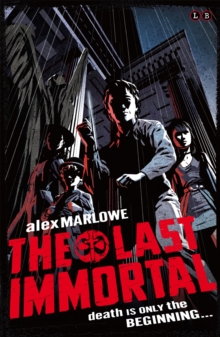 The last immortal
0349131805 / 9780349131801
20 cm viii, 289 pages : illustrations (colour)
Illustrations and text on inside covers.
Percy Jackson meets The League of Extraordinary Gentleman meets SherlockIn Victorian London, 13-year-old Luke Frankenstein dreams of joining The Immortals - a supernatural crime-fighting squad, founded by his father Victor.
But when Luke secretly follows the Immortals on a mission against the Dark Pharaoh Sanakhte, he is killed. Luke's body is preserved for 160 years before he is reanimated in the modern day, his body bestowed with superhuman powers and fitted with modern upgrades.
Sanakhte has returned and Luke must reunite the scattered Immortals.
But to destroy Sanakhte, Luke must uncover a terrible secret hidden in his past.... Inside cover printing features a comic strip detailing more of the Last Immortals' adventures!Now shortlisted for the Bolton Children's Fiction Award 2017
BIC:
5AK Interest age: from c 9 years, YFH Fantasy & magical realism (Children's / Teenage)