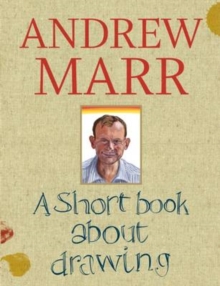 A short book about drawing
1849493340 / 9781849493345
Stock expected by 10/04/2020
22 cm 142 pages : illustrations (black and white, and colour)
Like millions of others, Andrew Marr draws. He hasn't had lessons, yet since childhood, the journalist and TV presenter has been at his happiest with a pen or brush in his hand.
One way or another he draws most days, even if it's just a doodle on the edge of a newspaper.
But why does he do it? Does it have a point? And in what way, if any, does this activity of his relate to what we think of as 'art'? In this intriguing new book, Andrew Marr explores the subject of drawing and painting through his own experience.
He considers the mechanics of the drawing process - the act of making and its importance for a happy life - along with the ways in which good drawing or painting can make us think harder and see the world differently.
He also investigates the tensions between drawing as concentrated work and drawing as an expression of freedom or play, and looks at the historical differences between drawing and fine art as well as how drawing fits into today's art world.
Written in his signature fresh, engaging and evocative style and illustrated with his own work, A Short Book About Drawing is Andrew Marr's unique take on this absorbing subject.
BIC: