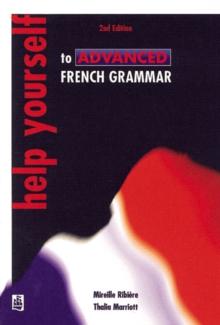 Help yourself to advanced French grammar : a grammar reference and workbook, post-GCSE/advanced level (New ed)
0582329450 / 9780582329454
Previous ed.: published as Help yourself to French grammar. 1990.
This new edition tests, explains and practises all the grammar knowledge required by the A Level syllabuses, in a format which is as appropriate for classroom use as it is for self study.
It has been brought up to date with current vocabulary and curriculum requirements.Step One contains diagnostic activities which help learners to identify gaps in their knowledge or problem areas.
Step Two provides explanations of the key grammar structures and Step Three features reinforcement activities which thoroughly reinforce the grammar covered and allow students to check on their own progress.
Step Four is revision sections after each of the three units, testing students on the more complex grammar points in order to ensure effective learning.
BIC:
2ADF French, 4KL Designed / suitable for A & AS Level, CJBG Grammar & vocabulary, YQF Educational: Languages other than English