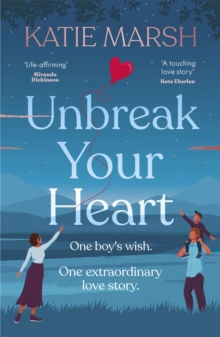 Unbreak your heart
1473685745 / 9781473685741
ONE BOY'S WISH. ONE EXTRAORDINARY LOVE STORY'A quietly beautiful and wonderfully human tale you will never forget' HeatSeven-year-old Jake's heart is failing and he doesn't want to leave his dad, Simon, alone.
So he makes a decision: to find Simon someone to love before he goes. Beth is determined to forget the past. But even when she leaves New York to start afresh in a Lake District village, she can't shake the secrets that haunt her. Single dad Simon still holds a candle for the woman who left him years ago.
Every day is a struggle to earn a living while caring for his beloved son.
He has no time for finding someone new. But Jake is determined his plan will succeed - and what unfolds will change all three of them forever. 'A touching love story' Kate Eberlen'A beautiful story that reminds us of the power and importance of love' Isabelle Broom'Gorgeously written and utterly life-affirming' Miranda Dickinson
BIC: