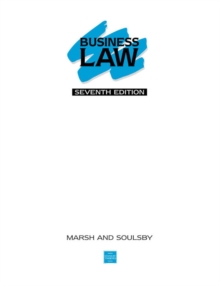 0748734155 / 9780748734153
The seventh edition of this introduction to business law includes substantially updated and expanded units on business organizations, with new material covering the Cadbury Report and important developments in areas such as limited partnerships.
Each unit provides a basis for modular study, and the early units introduce the key features of the English legal system, making the text particularly suitable for those studying law for the first time.
The book then covers partnership and the essentials of company law, and there is detailed discussion of the law of tort and contract.
Later units address other aspects of commercial law, from sale of goods, agency and consumer credit to a detailed study of employment law.
BIC:
1DBKE England, 1DBKW Wales, 4KHT For National Curriculum Key Stage 4 & GCSE, LNCB Commercial law, LNCD Company law, LNCJ Contract law, LNH Employment & labour law
Title Unavailable: Out of Print