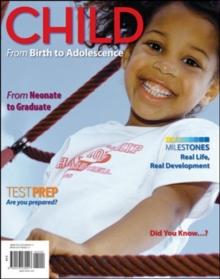 Child M-Series (ed)
0078035511 / 9780078035517
Usually dispatched within 4 weeks
221 x 277 mm, 676 grams 400 pages, 58 Illustrations, unspecified
CHILD--Built by RESEARCH. Grounded in SCHOLARSHIP. Powered by CONNECT. The latest entry in the McGraw-Hill M-Series, CHILD is part of an integrated learning solution with Connect, LearnSmart, and Milestones of Child Development, designed to help students learn how biology, psychology, and social forces influence child and adolescent development.
CHILD combines a commitment to scholarly content, critical thinking, and real-life applications of theory with a visually engaging and dynamic, interactive format.
All of the resources for CHILD were developed to engage students and foster their success in the Child Development course.
Connect CHILD allows students to work through assigned course content at their own pace, using their mobile devices.
With the use of our groundbreaking, adaptive study tool, LearnSmart, students are able to quickly pinpoint their weaknesses and are then guided to master the material they don't know through engaging interactivities, exercises, and readings.
Our research shows that students using LearnSmart can see their grades improve by a letter grade or more!
In addition to the course reading, to fully comprehend how children develop, it is essential to observe them in action.
Providing this experience within the Connect framework, Milestones of Child Development is an assessable video-based program that tracks infants and children through major developmental milestones.
Available only from McGraw-Hill, Milestones gives students the opportunity to watch an individual child approaching and achieving major milestones and compare several children on a specific milestone.
Paired with the dynamic digital offerings of CHILD is a contemporary textbook design which stems from research on student study habits, learning behaviors, and reader expectations.
McGraw-Hill conducted in-depth surveys and focus groups with students to understand what makes their reading and learning experiences more engaging, memorable, and enjoyable.
We observed students and faculty in classes. We then interviewed instructors to identify their biggest challenges and find out how a completely different way to deliver content could help to overcome those challenges.
Students want visually appealing course materials with interactive pedagogy, an integrated approach, and relevant content geared to different learning styles.
Faculty told us they want a way to engage their students without compromising academic quality.
Portable, multimodal, and visual-CHILD offers a dynamic learning experience designed for today's students.
BIC: