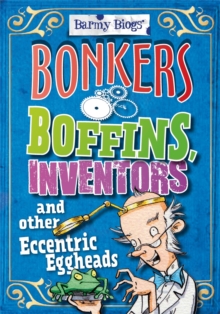 Bonkers boffins, inventors and other eccentric eggheads
0750283912 / 9780750283915
Usually dispatched within 4 weeks
20 cm 93 pages : illustrations (black and white)
Reprint. Originally published: 2013.
Find out which world-famous inventor's last breath has been captured in a test tube, which boffin loved nothing more than a roasted armadillo for lunch, and which scientist fell in love with a pigeon.
The books in the Barmy Biogs series are full of the facts that history books don't mention about some of the most famously crackpot characters in world history!
Read them and history will never be the same again... Other titles in the series: Crackpot Kings, Queens & other Daft RoyalsDastardly Dictators, Rulers & other Loony LeadersPotty Painters, Writers & other Barmy Artists
BIC:
4KHJ For National Curriculum Key Stage 2, 5AK Interest age: from c 9 years, YNH History & the past: general interest (Children's / Teenage), YNM People & places (Children's / Teenage), YNT Science & technology: general interest (Children's / Teenage), YQH Educational: History