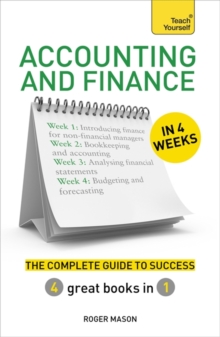 Accounting and finance in 4 weeks : the complete guide to success
1473605075 / 9781473605077
Usually dispatched within 2 weeks
20 cm 491 pages : illustrations (black and white)
Accounting And Finance In 4 Weeks is a comprehensive guide to understanding finance, giving you everything you need to know in one place.
Made up of four bestselling books in one, this book delivers a complete course in the essentials.
From balance sheets and profit statements to cashflow, budgets and forecasts you'll discover all the tools, techniques and strategies you need to get up to speed. This book introduces you to the main themes and ideas of finance and accounting, giving you a knowledge and understanding of the key concepts, together with practical and thought-provoking exercises.
Whether you choose to work through it like a 4 week course or dip in and out, Accounting And Finance In 4 Weeks is your fastest route to success:Week 1: Finance For Non-Financial Managers In A WeekWeek 2: Bookkeeping And Accounting In A WeekWeek 3: Understanding And Interpreting Accounts In A WeekWeek 4: Successful Budgeting And Forecasting In A WeekABOUT THE SERIESIn A Week books are for managers, leaders, and business executives who want to succeed at work.
From negotiating and content marketing to finance and social media, the In A Week series covers the business topics that really matter and that will help you make a difference today.
Written in straightforward English, each book is structured as a seven-day course so that with just a little work each day, you will quickly master the subject.
In a fast-changing world, this series enables readers not just to get up to speed, but to get ahead.
BIC:
* Variable discounts between 0% and 15% are applied to items where BBfS cannot determine exact discounts from suppliers.